X10 1/4oz Gold Panda from 2010-2019 PERFECT G100Y MS70 NGC SET! 2.5oz Total Au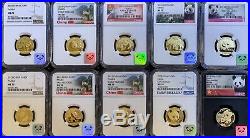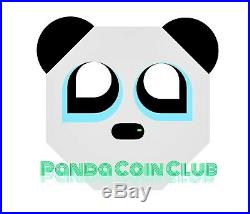 This listing is for (10) panda coins. Same as pictured in listing. Section 1: Whats asked from Buyers. Section 2: Everything about Listing. I ONLY ASK OF 2 THINGS FROM BUYERS. SECTION 1 / PART 1. If you have ANY questions, please read my description (BELOW HERE, KEEP SCROLLING)...
So please read below if you have questions. To make questions easier for everyone, I have my listings descriptions broke up in sections of topics, so people can find the answers to their questions quick/ easy right here at the top of the description. Please try to reframe from asking me questions Ive answered here, in hopes for a different answer.
I go through a ton of effort, as you can see, with each & every listing. The BUYERS SATISFACTION is my #1 priority! SECTION 1 / PART 2.
EVERYTHING YOU NEED TO KNOW ABOUT THIS LISTING. SECTION 2 / PART 1. IS THERE ANYTHING ELSE INCLUDED THATS NOT IN THE LISTINGS PICTURES OR LISTINGS DESCRIPTION. WHAT YOU SEE IS WHAT YOU GET. The item in the photo is the exact item youll receive.
I do not use stock photos, so please examine the pictures closely. Theres no need to ask me if anything else is included thats not in the photos or the description. Just to ensure this topic is clear, I understand the price is a reflection of the total contents included with each listing.
The listing price (or closing price for no reserves) is a direct reflection of the total contents which are, or arent, included with a listing. The listing is the listing & I include what I can include with each listing. Lets keep things stress free & keep collecting an exciting experience : This listing may not be what youre looking for.
SECTION 2 / PART 2. Short Answer: No &/or Maybe &/or Yes. Although you see Ive done my best to post clear photos, theres a second source to inspect the items listed. You may visit the NGC site & enter the certification numbers displayed. The NGC site offers high resolution photographs along with zooming capabilities. Even with all of this at your disposal, you also have a third resource.... Im a professional dealer, collector & numismatist.
We can get as technical as youd like, I dont mind a bit. That means this, if you want to see additional pictures of a particular part of a coins surface area (an area you feel is important in making your decision), I can inspect OR take close up / high definition pictures for you. I say all of this to reiterate, theres always a risk something may be missed in pictures. All that being said, in the rare event weve all missed something, or in the rare event youve discovered something youre simply unhappy with, you can still return whatever items youd like, no hard feelings. SECTION 3 / PART 1.
DO I HAVE A LONG STANDING REPUTATION? DO I GUARANTEE THE BUYERS SATISFACTION? Short Answers: Yes / Yes / Yes / Yes. Im an NGC dealer, professional numismatist, ANA member, collector enthusiast, as well as hold many numismatic credentials & awards.
I became a professional numismatist in 2002 & for 16 consecutive years, Ive maintained perfect standings in this industry & I plan to uphold my perfect standings throughout my careers entirety (which means there will never be any reason well have any issue if you simply communicate with me). Specifically, if pandas are your main interest, Im your guy! Ive worked very hard to create a work environment where problems/ stress are nonexistent. I also promise to always be understanding.
I consider repeat business the highest honor & I consider 5 star feedback the greatest compliment. SECTION 4 / PART 1. After the item is released to the post office, it depends on where youre located in this world as to how long it takes to arrive to your doorstep.
Every once in a while, the post office delays a package. Of course this is out of my hands, Im sure everyone understands this. SECTION 4 / PART 2.
Short Answers: Yes (please read details). SECTION 4 / PART 3. If you have additional questions regarding this matter, please contact EBays customer service & theyll walk you through this step by step. SECTION 5 / PART 1. WHAT DO I MEAN BY THIS?
The grade of the coin isnt my decision & I play zero role in the determination of the grade assigned. I pay additionally for each & every coin to come with a professional grading services authentication & grading opinion the grade of the coin is just that... A grade assigned will be consistent with the grading company. To ensure I offer everyone the highest possible quality in grading opinions, I only sell coins which are authenticated by the top grading companies in the world (NGC / PCGS).
ALL coins graded 69 or below WILL have imperfections & these imperfections vary from coin to coin. So, if you dont understand what imperfections may exist with the grade assigned, PLEASE do a little research first. Sometimes you may have 2 different coins that received the same grade & one has defects you can see with the naked eye & the other has defects that requires a trained eye, with magnification, to see. Coin defects are unique, just like fingerprints, and defects vary with each coin. These defects WILL be consistent for the grade assigned (under the grading standards), but the surface imperfections may appear different to you.
This is why I encourage you to learn what defects may exist with each grade. Im really trying to help everyone here the best I can.
With all of that being said, again I express this one thing. If a coin is graded 69 or below, theres a defect(s) on the surface of the coin. I say this again, flawless coins receive a grade of 70 & all coins graded 69 or below have a defect somewhere on the coin (defects vary from coin-to-coin & from grade-to-grade). The imperfections youve discovered is why the diamond isnt graded flawless. With diamonds, each grade determines a range of defects allowed...
And by range, I mean this (for example), there may be 2 different diamonds, which both received an identical grade, yet one diamond has more black spots than the other. Does this mean there was a mistake in the grading? This simply means theres 2 different stones, which both fit under the grading standards, qualify for the same grade. This is nearly an identical process with coins. For the coin grade assigned, the grading opinion is based on the defect range which is allowed for each grade.
2 different coins, which are identical in grade, may appear different in quality to you, yet both of these coins received an identical grade. Does this mean theres a mistake youve discovered? Does this mean the grading company has made a mistake?
Does this mean you bought a bad coin? The answers are no, no & no.
Why do I say this? What do I mean in saying this?
2 coins may appear different to you, yet are identical in their grade simply means one thing... BOTH of these coins fit under the allowed range for the grade assigned.
So, if youve taken the time to read the description, please let me point out again what I stated above. If you want to see additional pictures of a particular part of a coins surface area (an area you feel is important in making your decision), I can inspect OR take close up / high definition pictures for you. SECTION 6 / PART 1. IN CONCLUSION: LETS WORK TOGETHER.
From taking clear pictures, to writing a description, to carefully packing for transport, to driving to the post office. Its more than most people realize. Theres also the costs for return mailing etc. Happiness cannot be traveled to, owned, earned, worn or consumed.
Happiness is the spiritual experience of living every minute with love, grace, and gratitude. Quote from author Denis Waitley. The item "X10 1/4oz Gold Panda from 2010-2019 PERFECT G100Y MS70 NGC SET!
2.5oz Total Au" is in sale since Friday, September 20, 2019. This item is in the category "Coins & Paper Money\Coins\ World\Asia\China\PRC (1949-Now)". The seller is "pandacoinclub" and is located in Kansas City, Missouri. This item can be shipped to United States.
Year: 2010-2019
Grade: MS 70
Country/Region of Manufacture: China
Circulated/Uncirculated: Uncirculated
Certification: NGC
Composition: Gold