Sziqiqi Reindeer Figurine Statues Deluxe Set of 2, Christmas Deer Pure Copper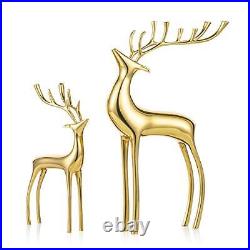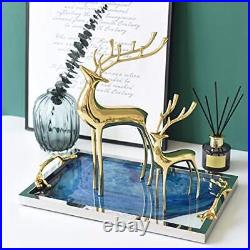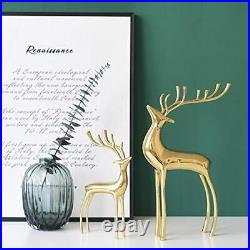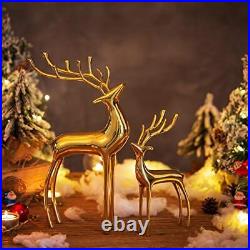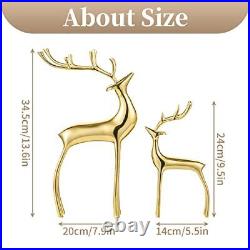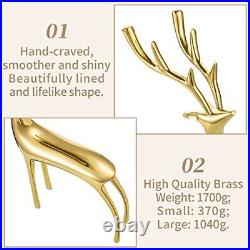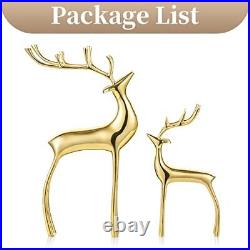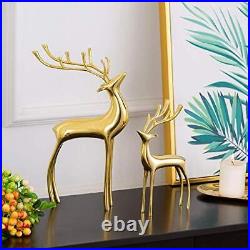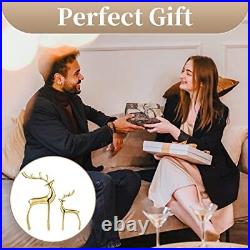 Made of high quality copper 2. Hand-craved, smoother and shiny 3. Beautifully lined and lifelike shape 4. Gorgeous and luxurious, perfect gift for anyone Color: Gold Material: Copper Size: Small: 14cm/5.5"×4cm/1.6"×24cm/9.5" Large: 20cm/7.9"×8cm/3.1"×34.5cm/13.6" Packing List: 1 × Size S Reindeer Sculptures 1 × Size L Reindeer Sculptures SIZE: Set of 2.
Small: 14cm/5.5"×4cm/1.6"×24cm/9.5", Large: 20cm/7.9"×8cm/3.1"×34.5cm/13.6". EXCELLENT MATERIAL: Our products are made of high quality copper, Thanks for it made by hand-craved, the surface is more smoother and shiny. The beautifully lined and lifelike shape adds a charming gleam to your home. PERFECT GIFT: This elegant reindeer sculptures collection is a perfect gift for your families or friends, such as birthdays gift, housewarming, weddings, Christmas and new year gift. It is also worth to be collected by yourself. APPLICATION: This beautifully made gold deer sculpture stand elegantly which gives a feeling of classic and elegance, suitable for any living space. Such as office, living room, bedroom, dining room, study, club, bookselfves, TV Stand and Mantle, ect.
SAFE PACKAGEING: We pack the reindeer sculptures in a custom box and insert the reindeer sculptures into the fixed groove to ensure they arrive safely.