Prong Set Blue Topaz Necklace In 14k Yellow Gold Perfect For Any Occasion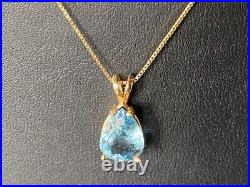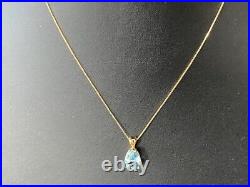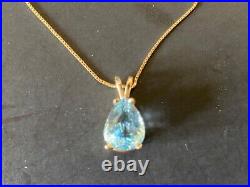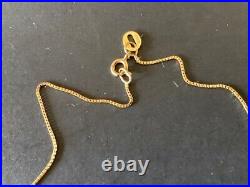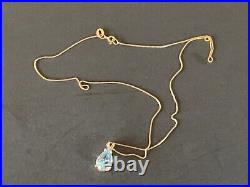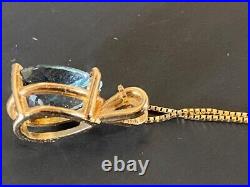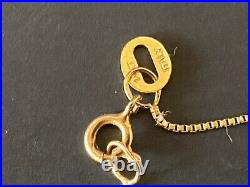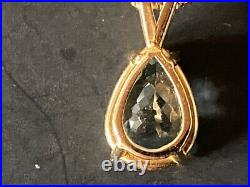 A SHORT INFORMATION: SIZE: 5/8'' x 3/8''. GROSS WEIGHT:2.1 GRAMS. BOTH CHAIN AND PENDANT ARE TESTED FOR SOLID 14K GOLD. ITEM INTRODUCTION: Introducing the elegant 14k Yellow Gold & Topaz Pendant Necklace!
This stunning necklace is perfect for anyone who loves fine jewelry that is both classic and timeless. Whether you're looking for the perfect gift for someone special or you want to treat yourself, this necklace is sure to impress.
Crafted from high-quality 14k yellow gold, this pendant necklace is not only beautiful but also durable. The craftsmanship and quality of this necklace are exceptional, ensuring that it will last for many years to come. The pendant features a pear-shaped natural topaz gemstone set in a prong setting. The color of the topaz is a beautiful shade of blue that will complement any outfit. The cut of the topaz is excellent, allowing it to sparkle and shine in the light.
The design of the necklace is both simple and elegant. The pear-shaped topaz hangs from a delicate 14k yellow gold chain that is approximately 16 inches long. The pendant is 5/8 inch long and 3/8 inch wide, making it the perfect size to wear every day or for special occasions.
In addition to being beautiful, this necklace is also practical. It has a secure spring-ring closure that will keep it in place, so you don't have to worry about losing it. The necklace and pendant are both tested for solid 14k gold, ensuring that you're getting a high-quality piece of jewelry. This necklace would be a perfect gift for a loved one on a special occasion, such as a birthday, anniversary, or holiday.
It's also a great way to add a touch of elegance to any outfit, whether you're dressing up or keeping it casual. With its timeless design and exceptional quality, this necklace is sure to become a treasured piece of jewelry for years to come.