NuWave Perfect Green Cookware 10 Piece + 9 & 12 Pans + 2 Nuwave Pic Gold 30201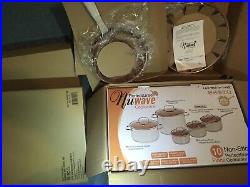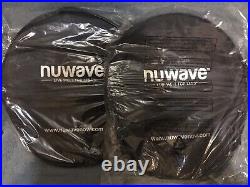 Introducing the NuWave Perfect Green Cookware 10 Piece Set, The set includes 1.4L, 1.9L, 2.8L, 5.2L, and 8.5L pots complete with 9" and 12" pans and 2 Nuwave Pic Golds + 2 Covers. This Full set is compatible with induction stoves and made of 18/10 surgical grade stainless steel with a Duralon 2 surface coating. It is heat resistant up to 450°F and features easy clean capabilities. The orange color and sleek design of the NuWave 31250 model will add a pop of color to any kitchen. This set weighs 50 lbs and is perfect for any home cook.
The 2 Nuwave Pic Gold are model #30201.