NEW Elegant Moissanite Jewellery Set with Necklace and Stud Earrings Womens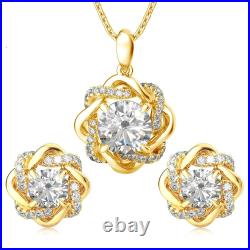 This elegant set from Holloway Jewellery features Moissanite diamonds set in sterling silver, making it the perfect accessory for any woman. The necklace and earrings are crafted with scrupulous attention to detail and quality, offering a timeless look. Showcase your unique style with this luxurious necklace and earring jewellery set.
Knot of Love 3ct Moissanite. 925 Sterling Silver Gold Plated.