Necklace Set with Ruby Chetum / Made in Pure 925 Silver / 24kElectro Gold-Plated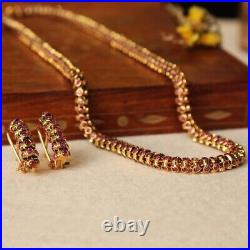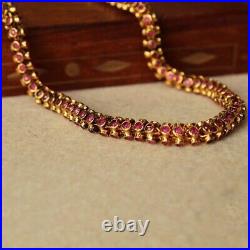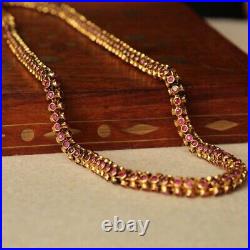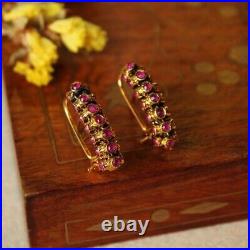 Each piece of this jewelry set is lovingly handcrafted by skilled artisans, ensuring that every detail is meticulously perfected. This dedication to craftsmanship ensures that you're not just wearing jewelry; you're wearing a work of art. Our Ruby Necklace with Earrings set embodies the rich heritage of Indian jewelry craftsmanship.
It pays homage to centuries-old techniques passed down through generations, resulting in a piece that exudes cultural significance and authenticity. The necklace is made from pure 925 silver, renowned for its quality and durability. The intricate rope chain design adds a touch of uniqueness, setting it apart from ordinary jewelry. The 24k gold plating adds a lustrous finish that elevates the piece's opulence. The star of this set is the stunning Chetum gemstones, carefully selected and expertly set to capture their natural beauty.
These gems are known for their captivating red hues and have been cherished in Indian jewelry for centuries. While this jewelry set radiates elegance, it's also designed for everyday wear.
Its simplicity and sophistication make it perfect for both special occasions and enhancing your daily attire. Dress it up or down, and watch it effortlessly elevate your style.
The included studs perfectly complement the necklace, creating a harmonious look that ties your ensemble together. The studs are comfortable for extended wear, making them an excellent choice for long events or daily use. Rubies have long symbolized passion, love, and courage. Wearing them allows you to carry these qualities with you, enhancing your confidence and charm.
Whether it's for a loved one or yourself, this Ruby Necklace with Earrings set makes a thoughtful and meaningful gift. It's a timeless piece that can be passed down through generations, carrying with it the stories of love and beauty. Your jewelry will arrive in a secure and elegant package, ensuring it reaches you in pristine condition.
We take great care in packaging to make your unboxing experience as special as the jewelry itself. We are confident in the quality and craftsmanship of our jewelry. Unlock the Beauty of Tradition. With our handcrafted Indian jewelry, you don't just wear jewelry; you carry a piece of India's rich heritage with you. This Ruby Necklace with Earrings set is a testament to timeless craftsmanship, premium materials, and cultural significance.
It's your opportunity to add a touch of India's elegance and beauty to your life. This set isn't just jewelry; it's an expression of your style and personality.
Whether you're attending a grand event, celebrating a special occasion, or simply enhancing your daily look, the Ruby Necklace with Earrings set is the perfect companion. Its versatility allows you to wear it on any occasion, making it a valuable addition to your jewelry collection. Own a Piece of Indian Tradition. By choosing this handcrafted Indian jewelry, you're supporting the tradition and artistry of skilled artisans who pour their hearts and souls into each piece. You're also connecting with India's rich culture, where jewelry isn't just an accessory but a symbol of heritage and grace.
Elevate your style, enhance your confidence, and carry the beauty of Indian tradition with you wherever you go. Don't miss this opportunity to own a piece of jewelry that is more than just an accessory; it's a reflection of your appreciation for timeless craftsmanship and cultural significance. Jewelry is more than adornment; it's an investment in memories, traditions, and the beauty of life. Our handcrafted Indian jewelry transcends trends, ensuring that it remains as captivating and meaningful as the day you first wore it.