Natrogix Nirvana Essential Oils Top 18 Essential Oil Set 100% Pure Ther. New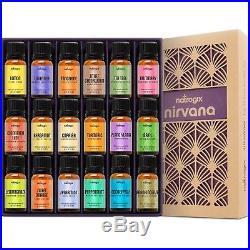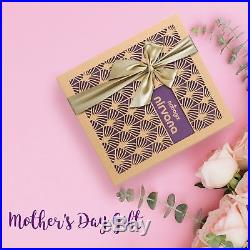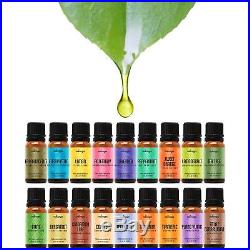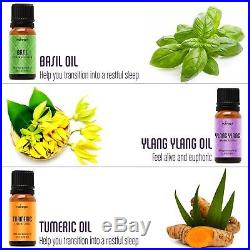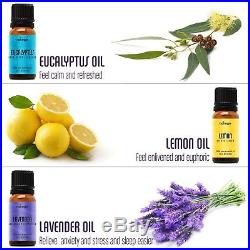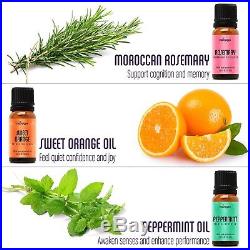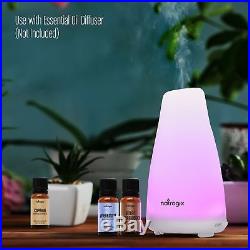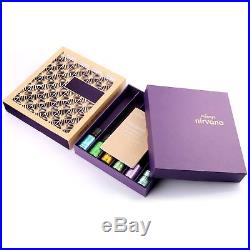 Natrogix Nirvana Essential Oils - Top 18 Essential Oil Set 100% Pure Therapeutic Grade 18/10ml Incl. Lavender, Moroccan Rosemary, Tea Tree, Eucalyptus, Lemongrass and 13 More w/Free E-Book (18/10ml). Size: 18/10ml Brand: Natrogix UPC: 615517918931 EAN: 0615517918931. THERAPEUTIC GRADE ESSENTIAL OIL SET - Natrogix Nirvana is the ultimate essential oils set, holding eighteen (18) painstakingly extracted essential oils. Used alone or combined together in exquisite sensory recipes, these oils breath relaxation, joy and healing into any environment. THE PERFECT COMBINATION - Natrogix Nirvana contains the 18 most popular essential oils on the planet: Eucalyptus, Frankincense, Lavender, Lemongrass, Lemon, Moroccan Rosemary, Sweet Orange, Tea Tree, Peppermint, Turmeric Oil, Tangerine, Ylang Ylang, Basil, Cedarwood, Spearmint, Bergamot, Copaiba Balsam, Cinnamon Leaf. Our oils are carefully sourced all over the world. DELICATE OILS PROTECTED - Cradled inside each enlightened box of Nirvana are eighteen 10ml bottles with easy-use droppers.
The gold amber tint of the strong bottles guard these precious, delicate oils from light and UV degradation. All natrogix oils are bottled in FDA certified facilities in the US.
HIGHEST QUALITY GUARANTEED - We are truly proud of Natrogix Nirvana. All 18 oils are GC/MS certified, and NO pesticides, herbicides, GMOs or other additives. Please kindly understand smell is NOT everything about essential oils.
Their main job is to be absorbed into our system by breathing and through skin absorption, to promote health and wellbeing. Some oils smell "chemical" because of containing 100% natural chemicals form the plant such as alcohols, aldehydes, esters, ketones, etc. Discover soul lifting combinations that will intrigue you at first... And then become something you dont want to live without! Today"s buyers are eligible for the E-Book, "200 Essential Oil Blends for Peace, Health and Wellness.
Experience the sharp, cool vapor of tea tree oil mixed with Eucalyptus clearing your sinuses and opening the areola in your lungs. This combination is intensely healing and cleansing, and is just one of the millions possible with your Natrogix Nirvana essential oils set. Need to wake up and feel energized right now?
Essential lemon oil provides the spark. Need to relax and wind down after a long, troubling day? Let Lavender massage your mind.
Better yet, keep it handy at your desk. Try Moroccan Rosemary, the "Herb of Remembrance". Use any of the 200 recipes we provide you. Or experiment and find the best combinations to nourish your heart, body, mind and soul. Natrogix Nirvana essential oils cut no corners where quality is concerned.
Minute details are accounted for. Even the packaging is a wonder to behold (making Nirvana the perfect gift).
You will love your Natrogix Nirvana. Gas Chromatography (GC) measures the constituents contained within a particular essential oil sample by plotting each constituent found within the sample onto a graph.
Mass Spectrometry (MS) identifies each of these components and their percentages. This process is used to identify any adulteration of the essential oil tested. The precise breakdown of the chemical components in individual oils given to us by GC/MS reports are important as the therapeutic benefits and safety issues of essential oils are determined by their chemical makeup.
Purity is essential for potency and safety We believe essential oils must be pure plant extracts to have a therapeutic effect. Adulterated oils or perfume oils will not offer therapeutic effects and may in fact cause allergies, headaches and chemical sensitivities. All our essential oils are fully tested with GC/MS Natrogix is serious about essential oil safety. The GC/MS test report for all the Natrogix oils are available for customer to check.
You can see each essential oils GC/MS report by going to the ebook page and get the GC/MS report. Carefully Sourcing and Professional Bottling Natrogix Oils are carefully sourced all over the world. Our sourcing specialist visited each country of origin of all 18 oils. After comparing and comparing, we found out the best oil for our customer.
We knew some oils maybe not smelling good, but we believe that they will be really helpful for health and wellness. And all oils are bottled in FDA certified facilities in the US. >>>>>> Why pure essential oils smell a little bit "chemical"? Natrogix oils are extracted from the botanical species that has been botanically authenticated, to ensure the great therapeutic effect. Although the chemistry of an essential oil is extremely complex, and different oil will contain unique constituents such as alcohols, aldehydes, esters, ketones, lactones, phenols, terpenes and sesquiterpenes which are 100% natural chemicals from the plant, not synthetic fragrance chemicals. And, some of these constituents smell "chemical". Cheaper, synthetic'fragrant' oils are available in stores, and while their scent is more wonderful and will last longer, they are a chemical compound designed to mix into or replicate a real plant extract, and there is less health benefit in breathing or absorbing them into the body. Natrogix Essential Oils is 100% pure, directly extracted from the plant, and will 100% do the job for health and wellbeing. The item "Natrogix Nirvana Essential Oils Top 18 Essential Oil Set 100% Pure Ther. New" is in sale since Thursday, May 17, 2018. This item is in the category "Health & Beauty\Natural & Alternative Remedies\Aromatherapy". The seller is "euromegashop" and is located in US.
This item can be shipped to United States.
MPN: Does not apply
Brand: Natrogix
Size: 18/10ml
UPC: 615517918931
EAN: 0615517918931
Expiration Date: 08/2019