NANA Princess Cut withCZs 3 Sides Mothers Ring 1-6 Silver/10k Simulated Birthstone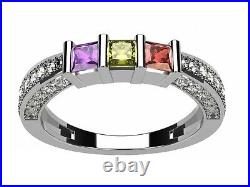 Couple's Rings and Pendants. Sterling Silver & 14k Stud Ear.
NANA Princess with accent CZs on 3 Sides Mother's Ring 1-6 Simulated Birthstones in Silver or 10k White, Yellow or Rose Gold. This Beautiful Mother's Ring is Personalized and Customized for you. This Mother's ring comes with your choice of 1 to 6 Princess cut Simulated Birthstones in Solid Sterling Silver or solid 10Karat gold White, Yellow or Rose Color. Graceful Mother's Ring Adorned by Bar Pattern Set with your choice of 1 to 6 Princess Cut Simulated Birthstone on Center with Round Brilliant Pure Brilliance Zirconias on Three Side with Flat Edging; This Ring is Crafted in Silver or 10k White, Yellow or Rose Gold. Please select metal & ring size to reveal correct price.
Nana ring, Grandmother ring all will serve the purpose. This custom Mothers ring will give your Mom a lot of joy and happiness. Great Mother's Day Gift for Mom or any special women in your life! This Princess with accent Pure Brilliance Zirconia ring looks like the adorable piece of art and gives you a feeling of accomplishment when you present her with it.
Treat yourself or her like a queen with the gift of this Sparkling Pure Brilliance Simulated Diamonds. Fashions fade; style is eternal. This stunning Ring is Personalized and Customized for you. This Mother's ring comes with your choice of 1 to 6 Princess cut Simulated Birthstones in Sterling Silver or solid 10 Karat White Yellow or Rose Gold. The Princess Cut Simulated Birthstones measure 3.0mm each.
It is 3.3mm Wide and 2.8mm Thick. It has 30 Round Brilliant Pure Brilliance Zirconia that measures between 1.1-1.5mm. For more information, please view the CAD image on this listing. Pure Brilliance Zirconia is a beautiful, high quality, desirable substitute for diamonds.
It is virtually flawless whereas most diamonds have internal inclusions or external blemishes. Pure Brilliance Zirconia have refractive index dispersion and hardness so optically close to diamonds even jewelers cannot tell the difference with the naked eye. Sterling silver is reflective and mirrors the soul, it is said to bring calm and balance to the wearer. Shaman believe silver gives the wearer protection from negativity and evil.
It is known as the metal of emotions, love and healing. Be quick to show affection for your mother or the mother like figure in your life by giving her an amazing gift in the form of a Ring. This ring can also be a gift for your significant other especially when you are hoping to build a strong bond with her and you will find her grabbing on to it once you present it to her.
The ring looks like the loveliest piece of art and gives you an opportunity to do something for your mother. Gift her this ultimate Ring where the simplicity stands out for the class and beauty of this elegant ring so artfully designed that it will take her breath away. A Mothers ring also symbolizes the strong bond between the two of you.
So it would actually be a form of showing your gratitude without resorting to long drawn words. Go ahead and create a vision in metal and stone only for mommy dearest. Central Diamond Center stores are located in Richardson, Texas and in one other location in the Dallas metropolis to better serve you.
What information do we collect? We collect information from you when you register on our site, place an order, subscribe to our newsletter or fill out a form. You may, however, visit our site anonymously.
What do we use your information for? Any of the information we collect from you may be used in one of the following ways. And we'd be glad to assist you.
NANA Princess Lucita Cut Mother's Ring 1-7 Simulated Birthstones 14kt Gold. NANA Infinity Mothers Ring 1 to 6 Simulated Birthstones Sterling Silver or 10k. NANA Shared Prong w/side stones Mothers Ring 1-6 Stones in Silver or 10k White. NANA Oval Rope Mother's Ring 1-12 Simulated Birthstones Sterling Silver.