Gold 300 Sheets 24K Genuine 100% Pure Gold Leaf Gilding 1.18 Best Promotion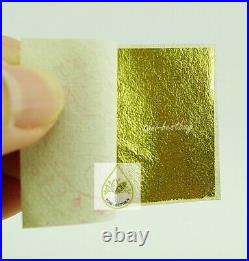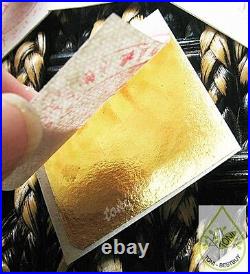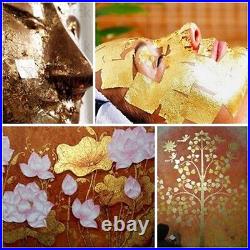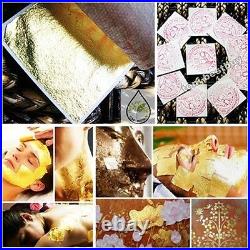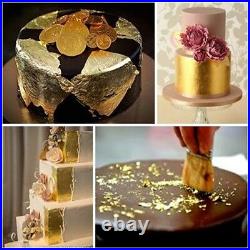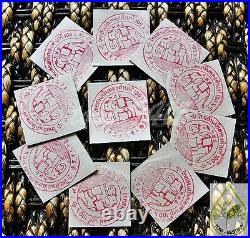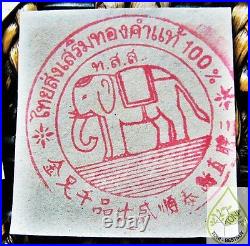 Real Gold Leaf 100% Pure 24K for. Facial Mask Spar Anti-Wrinkle Firm Skin. The 24 K gold mask lifts and firms your skin to reduce the appearance of fine lines, wrinkles. Gold gilded lids, cheeks, lips and/or décolleté with a opaque, foiled, golden luminosity, Food Best Edible, Cake Decorate.
Handmade Art Work and other usage. Real Pure 100% New, High Quality.
300 pieces for Size 3.5 x 3.5 cm. The Benefits of Gold Leaf Spa.
Reduces the appearance of fine lines and wrinkles. Reduces the appearance of sun damage. Reduces age spots and helps lighten skin evens out skin tone. Makes skin look and feel smoother and softer. Fights off damaging free radicals help prevent premature aging.
Slows down collagen depletion and defies the human aging process. Promotes skin firmness and increases skin elasticity and lifts the skin.
Provide a tightening effect prevents sagging skin. Minimizes skin inflammation repairs damaged skin cells. Timulates cellular growth increases the life of the skin. Serves as for all natural sunscreen. How to use for Face Spa.
Clean and thoroughly dry your face. Clean face with warm, moist towels about 1 to 2 minutes. Apply serum or your favorite skin care using upward, circular motion to your face Do not rinse off. Apply the 24K Gold facial mask as shown, smooth the mask gently to ensure good contact with the skin.
Massage in the 24K Gold facial mask using upward, circular motion to your face until absorbed completely. Food Best Edible and Cake Decorate. In Europe the tradition of using edible gold on food goes back to at least the 16ht century!! In Japan the tradition is also centuries old.
For those extraordinary and very special times or events in your life you may decide to add a touch of edible gold leaf elegance to the food. Yes, it is safe to partake of gold leaf and the cost of adding edible gold leaf to the menu is reasonable enough. It can be a very cost effective way to really kick up the novelty level of your party.
Pure edible gold that has not had very alloy or other metal added to it has no nutritional value and will pass through the body without any harm or reaction. In order to produce gold leaf in different colors it is mixed with other minerals such as copper, resulting in colors ranging from red tone to white gold. These alloys are NOT edible. Edible gold leaf is pure gold.
Some edible gold leaf is a combination of pure gold and pure silver. Edible gold leaf has been certified as safe to ingest and has been certified as "Food Grade" in Europe. Artenders like to use edible gold leaf to their exotic cocktails for special occasions to enhance the elegance of the drink. Or they will add gold "sprinkles" to a drink like champagne for an enhancement. Chefs and bakers find that adding edible gold to gourmet food dishes and desserts add a special flair to the meal. Edible gold leaf has been used to cover a Thanksgiving turkey. Edible gold can be added to drinks and dishes without fear of altering the feel and taste of the food and drink. Gold leaf comes in thin sheets that can be so light weight that they will almost float in the air. As any artist that "gilds" can tell you, some practice and experience is helpful when trying to apply edible gold to your food or drink. You will find the gold leaf easier to handle and apply if you use two very thin bladed knives for the process. Use on blade to detach and hold the gold leaf sheet, then use the second blade to direct the leaf onto the decorated item. You may prefer to use the tools in a GILDING KIT when placing edible gold leaf into food and drinks. If you go to a restaurant and order a meal that is garnished with edible gold you will find that the prices will likely be extremely high. You are paying for the perception of an extravagance. When deciding to use edible gold yourself, keep in mind the quantities are usually so small that the cost of the gold leaf will be quite reasonable in the context of the overall cost of the food and party. Shop our store for a grant selection of gold leaf. Use the search functions on each page to help you find that special edible gold for your event.
Since antiquity, once gold underwent specific processing and treatments, its great versatility would make it particularly suitable even for decorating food and drink during very important occasions. Its modern elaboration on the part of MBB foresees the exclusive use of 24K (100% Pure Gold) raw material and respect for strict production guidelines, allowing the end product to obtain an edible food decoration certification. Such purity guarantees top level quality standards and permits chefs, patisserie masters, wine experts and barman to obtain an unmatched and exciting aesthetic result.
Hese are some testimonials that some of my. Excellent quality & safety packaging!!
WOW Fast and a good product! Thank you gave me fresh leaves and special leaves. Great Deal Top quality, Direct from Thailand in good time!
Some items will arrive in 30+ days depending on the destinations. Providing you the best qualities on all products. Offer your honest and fastest service with most premium price to you. Your merchandise will arrive at the referred destination.
Please do not throw anything away. Please don`t leave any negative or neutral feedback before. We will help you to solve the problem please don't worry about it. This item is in the category "Crafts\Multi-Purpose Craft Supplies\Other Multi-Purpose Crafting".
The seller is "toni-bestbuy" and is located in this country: TH. This item can be shipped worldwide.
Handmade: Yes
Model: Sheets
Modified Item: No
Country/Region of Manufacture: Thailand
Custom Bundle: No
Quantity: 300 Pieces for 1 set
Size: FULL Size each or 3.5 X 3.5 cm
Suitable for::: Facial Mask, Food Best Edible.

, Handmade Art Work

Bundle Listing: Yes
Shipping: Special Fast Safe Shipping with Tracking
Original: Guarantee Genuine Rea Pure Gold Leafl 100%
Quality: Genuine Pure 24K Gold Leaf 100%
MPN: Thai Song Serm Pure Gold Leaf
Brand: Toni Gold Leaf Thailand Elephant