Gift 22K Turkish Jewellery Set Perfect for wedding and Anniversary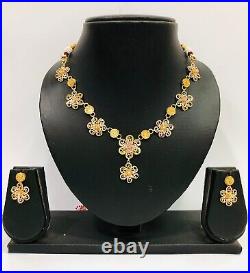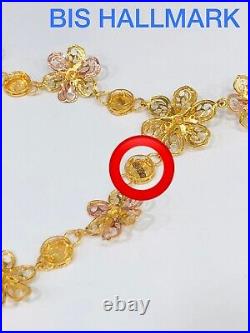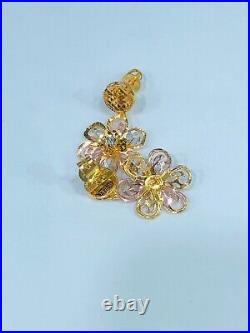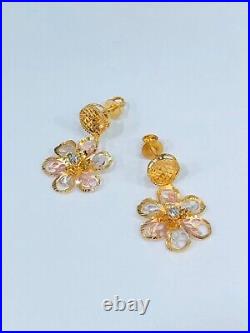 This exquisite 22K Hallmark jewellery set is the perfect way to celebrate the New Year 2023 in style! This set includes a stunning necklace, a pair of earrings, and a bracelet all crafted from the highest quality 22K gold and adorned with gorgeous 22K gold.
The necklace features a classic design with a sparkling central stone and a delicate chain. The earrings have a modern design with a rose gold plated flower surrounded by a some silver plating, while the Set has a unique pattern of both Silver & gold colour that is sure to draw attention. This set is the perfect gift for a special someone or an elegant addition to your own jewellery collection. The Metal included in it is a 22K Gold which is the Finest of all Gold Carats to make Jewellery it is 91.60% of gold that gives it a unique Golden shiny look that creates the classic look overall. It is designed in Indian Traditional fashion with the Arabic design touch to it.
It is 22K BIS Certified Jewellery Set that comes with the Government Hallmark on all the 3 pieces of the Jewellery Set that conclude that it is a government certified ornament and it is valuable to its authenticity which is 22K Purity. It certifies that the piece of jewellery conforms to a set of standards laid by the Bureau of Indian Standards the national standards organization of India. India is the second biggest market for gold and its jewellery. International Organization for Standardization (ISO). ISO is an independent, non-governmental membership organization and the world?
S largest developer of voluntary International Standards. BIS is a founder member of ISO and is actively involved in development of International Standards by acting as Participating (P) member or Observer (O) member on various Technical Committees, Sub-Committees, Working Groups, etc.