Ayurveda Pure Kansa Bronze Dinner Platinum Solid Dinnerware Thali Set (Gold), 6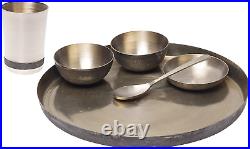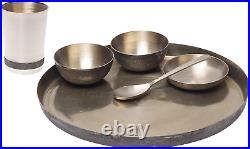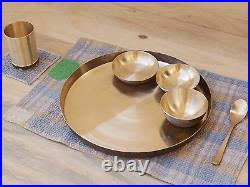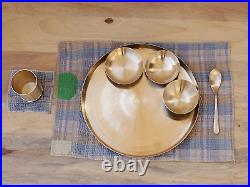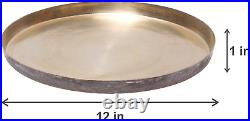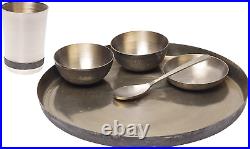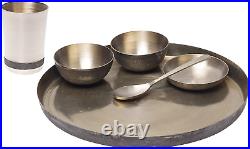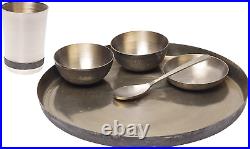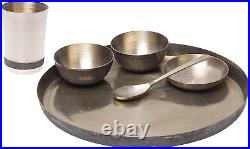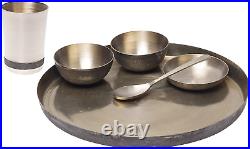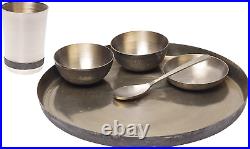 PURE MATERIAL & IDEAL SIZE: Made of finest food grade Kansa (Bronze), this kitchen and dining vessel is an alloy of Pure Copper (79%) and Pure Tin (21%). Millennium-old traditions consider this composition ideal for eating/drinking. This Kansa Bronze dinner set includes 1 Thali (platter), 2 Katori (bowl), 1 Dessert Bowl, 1 Spoon and 1 Glass (tumbler). The Thali measures 12 inches in diameter and 1 inch in height. ELEGANT DESIGN & HEALTH BENEFITS: A lifestyle and utilitarian Kansa object, beautifully simple, this bronze dinner set is perfect for serving any liquid or dry food.
This beautiful set boasts a hand sculpted, natural and fired patina on the surface. According to Ayurveda, Kansa vessels has an alkalinizing effect on food served in it that regulates thyroid gland function, strengthen bones, improve the immune system, cure constipation, reduce fatigue, treat skin problems and support hair growth. HANDCRAFTED, LONG LASTING & EARTH-FRIENDLY: This exquisite handmade dinner set has been crafted by skilled artisans from India. This product is equally valuable even after damage as this Kansa metal is easily recyclable. It is highly durable, corrosion resistant and suitable for daily use.
It is also wear & tear resistant and heat resistant so you can serve any hot food without a worry. This product comes packed in a special box and makes a wonderful gift for your loved ones. SOCIAL EMPOWERMENT: This product supports and empowers artisans and preserves the rare craft of making Kansa utensils in India.
Beware of poor composition and low-quality goods available widely. Kindly note there may be unevenness and black spots on the vessel due to firing in the furnace, it is not being considered as a defect. To clean, simply hand wash these vessels with use of lime & salt, wood ash or Pitambari powder. De Kulture presents Ayurveda Pure Kansa Bronze Platinum Solid Dinnerware Thali Set. The set includes one thali, three katori, one glass, and one spoon, making it a complete dinnerware set.
The Ayurveda Pure Kansa Bronze Platinum Solid Dinnerware Thali Set is made of high-quality Kansa Bronze with a Platinum finish. Kansa Bronze is a traditional Ayurvedic metal that is known for its health benefits. The set features a traditional Indian thali design with a raised rim that prevents the food from spilling. The thali has enough space to serve different food items. The Kansa Bronze material is known for its durability and resistance to corrosion, making it long-lasting.
Kansa Bronze is believed to have many health benefits, including improving digestion and boosting immunity. The dinnerware set is easy to clean and maintain. It is dishwasher safe and can be easily hand washed.