Fancy Clip-in Extension 100% Pure Human Hair 8 pc Set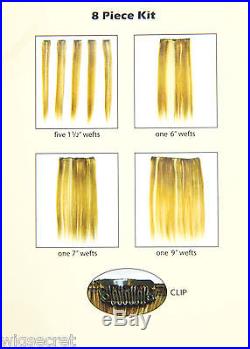 Description: Available in 67 Colors Premium human hair extensions, which make your own look more luxurious! Add hair, fullness and body where you like. The length of each piece is 16 inches. The length of each piece is 16 inches and the widths are the following: one 9 inch Wefts, one 7 inch Wefts, one 6 inch wefts, five 1 1/2 inch wefts. Light Butterscotch Blonde Pale Blond Highlight - 24B-H613.
Light Golden Blonde - 24. Butterscotch Blonde Tipped Pale Blonde - 24BT613. Dark Brown and Medium Auburn - 4/30. Light Pale Blonde - 613. Fox Red (Clear Cool Vivid Red) - 130.
Chestnut Brown + Medium Auburn Frost - 6/30. Ginger (light cool ginger red) - 27C. Golden Blonde Highlight Pale Blonde - 24 H613.
Gold Blonde Light Gold Brown Frost - 24-14. Light Ash Brown Champagne Blonde Frost - 18-22.
Strawberry Blonde with light Pale Blonde Highlight - 27-H613. Medium Golden Brown - 10. Light Chestnut Brown Root Tipped Lt.
Honey Ash Blonde - 16. Light Gold Reddish Brown - 12. Light Butterscotch Light Ash Brown Tipped - 24BT18. Dark Auburn Fox Red Frost - 33/130. Light Butterscotch Light Ginger Blonde - 24B27C.
Light Chestnut Brown Highlight Honey Ash Blonde - 8H16. Off Black Medium Auburn - 1B-30. Medium Golden Blonde - 26. Light Chestnut Brown - 8.
Light Gold Brown - 14. Auburn (warmer brown red) - 30. Black Burgundy - 1B Burgundy. Medium Golden Brown Highlight Honey Ash Blonde - 10H-16.
Golden Reddish Blonde - 15. Strawberry Tipped Pale Blonde - 27T613. Butterscotch Blonde Pale Blonde Frost - 24B-613. Strawberry Blonde with Medium Auburn - 27/30. Dark Brown Frost Strawberry Blonde - 4-27.
Light Butterscotch / Medium Ash Brown - 24B18. Dark Auburn Tipped Fox Red - 33T130. Light Brown Blond/Light Golden Blond - 14/24. Ash Black with Dark Auburn Frost - 1B/33.
Ash Black with Strawberry Blonde Frost - 1B/27. Strawberry Blonde With Dark Auburn Frost - 27/33.
Honey Ash Blonde with Champagne Blonde Frost - 16/22. Dark Maroon Red - 99j. Butterscotch And Champagne Blonde - 24B/22.
Off Black with Dark Auburn Highlights - 1BH33. Dark Auburn Tipped Strawberry - 33T27. Med Golden Brown Highlight Light Butterscotch - 10H24B. Auburn with Light Blond tip - 31T26. Amber / Cream Soda - 27MB.
Light Chestnut Brown Root Hilgt With Lt. Auburn with Dark Auburn Frost - 30/33. Lt Golden Brown Med Red Golden Blend Red G Tip - 12/30BT.
Medium Ash Brown - 18. Aubunr with Burgundy Frost - 30/BURG. Light Chestnut Brown Highlight Fox Red - 8-H130. How to Care for a Human Hair Wig. Protect the wig from an oily appearance by keeping your own hair clean.
Besides washing your own hair, you can also wear a wig cap under the wig. Wash a human hair wig infrequently; wear it for about six times between washings.
However, if it starts looking oily or dirty, then decrease the wearing time between washings. Remove tangles from the wig before washing. Use a wig pick for a curly wig or a wig brush for a straight wig.
Carefully comb/brush through the tangles. Fill a sink with lukewarm water and add wig shampoo. Soak the wig for five minutes in the soapy water. Gently squeeze out excess water.
Rinse well in lukewarm water. Place the wig back in the sink. Pour shampoo in your hand and gently massage the wig. Be careful not to overdo the massage.
Pour conditioner in your hand; the amount will depend upon the bottle directions. Massage it into the wig and allow it to stand for five minutes. Place the wig in a towel and blot gently to towel dry.
Place the wig on the wig stand to air dry. If you need to wear it soon, a human hair wig can be dried with a blow dryer set on low. Comb or brush gently through the wig. Style the wig using hot rollers or curling iron or Velcro rollers. Set with a wig spray or light hairspray.
Attention International Buyers (PLEASE READ). We are not responsible for any of these costs for your location, please inquire with your local agencies before purchasing the item. Please allow sufficient time for packages to arrive as they can take the full 30 days to arrive. The item "Fancy Clip-in Extension 100% Pure Human Hair 8 pc Set" is in sale since Sunday, August 7, 2011. This item is in the category "Clothing, Shoes & Accessories\Women's Accessories\Hair Accessories". The seller is "wigsecret" and is located in 94578. This item can be shipped worldwide.
Brand: Unbranded
Texture: Straight
Hair Type: Human Hair